TRICIA (HOUSTON, TEXAS)
I'm currently spending a bit of time back in Houston, where I lived for the majority of my younger years and I am (mercifully) finding out that I like it a million times better as an adult. In general, revisiting has been a big theme in my life lately...whether it's rereading books after realizing that they had long been in my mental list of favorites but I didn't actually remember enough about to have a good conversation about or welcoming a steady stream of bands that nurtured my teen angst back into my life. So far, so good until the self loathings creeps back in!
Poly Styrene, you get what I'm talking about.
Anyway, let's talk fashion!

Thrifted shirt & shorts, Rachel Comey shoes, and Karen Walker Sunglasses.
I wore this to meet some friends for happy hour and it turned out that the bar we had planned to meet up at was hosting some sing-along screening of an S&M musical whose audience was 100% middle aged. The mixed drinks were $2, though, so we opted to stay and hang out on the patio where we could hear each other talk...but looking back, why didn't we just open our hearts and watch the movie?
My favorite thing about these ugly-pretty babies (besides the fact that I got a ridiculous deal on them) is that I only get compliments about them from two types of people: super fashiony girls and boys who are lovable but wear ill fitting khakis. You know, natural companions.
I tried to get a detail shot of my shirt (chambray! eyelet! be still my heart!) and my beautiful Datter ring, but you can't really see how perfect it is on my fist, so here's a photo from Etsy:
See! A tiny finger hug for an unlovable monster like me.
Shoes are thrifted, dress is Ace & Jig, and the necklace is by me.
Accidental wistful fashion blogger shot! Sadly, the outtakes from this day are way worse even though my bangs are doing weird, unfortunate things here. Anyway, we all know that a good outfit has stripes and a great outfit has stripes on stripes, so this dress is sure to join the ranks of my most worn items of clothing along with notable heroes of a totally different nature, like my striped t-shirts. The main sell, however, is the fabric - it's a super nice linen & cotton blend that's breathable for summer but substantial enough to pair with ankle boots and jackets for winter if colder months ever come and save me from my misery.
Bonus MySpace shot so we have as many Internet self-portrait eras covered as possible. Can't wait 'til my kids can take that art history class!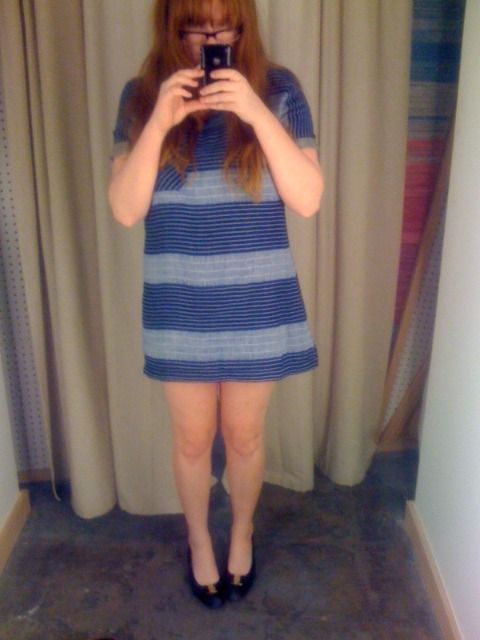 And while we're at it, here's an earlier shot from when I initially tried on the dress and was trying to decide whether or not to get it so I sent my girl Carly a picture! I am supremely lucky to have a group of trustworthy ladies to talk me through shopping trips via text message. Vivian, Joyce, Carly, Dana...please, please don't ever leave me or make fiscally responsible decisions like limited data plans.
Pants by Current/Elliot, t-shirt from the depths of my closet, sunglasses by Karen Walker.
I snapped this on the way out to meet up with my friend Michelle for a little shopping, battered & fried stuffed peppers, and museum hopping and in my excitement to see a real, live person, failed to get a full body shot. I'm wearing the same thrifted Ferragamos from earlier in the post, though, and who even cares about my shoes because the important thing is really patterned jeans, anyway! Definitely the best trend happening now. I would love nothing more than to take it a step further and own my very own floral pantsuit and you rest assured, I'm keeping that dream alive until every limb on my body is covered in flowers.
The other days of the week, I just wore black shorts and black shirts while putting information in databases and then wound myself up and/or down with Breaking Bad & Gallery Girls. Not particularly photogenic, but I can't complain, either.